Preview Safety Moments vol 1 now by clicking on the clip. The quality of DVD are much higher than what you see on the web.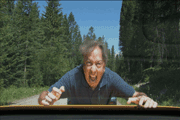 Road Rage… You Never Know Who or Where the Nut Cases Are (2:50)
It happens every day.  Someone upsets another driver either knowingly or unknowingly.  The resulting confrontation escalates into violence and someone is hurt or killed.  Don't let it happen to you.
Click here to view Clip >
.
.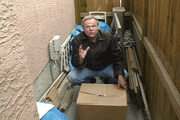 Lift With Care to Protect Your Back (3:27)
A back injury can reduce your quality of life for years to come.  Don't let something as simple as a heavy couch, piece of wood or a heavy valve at the workplace reduce your quality of life.  You are never too young or too old to start looking after your back.  Take care of your back now so you can have a healthy retirement with a high quality of life.
Click here to view clip >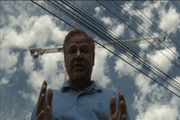 You Don't Have to Fall From a Great Height to be Hurt (2:40)
If you fall from the 45th floor on a construction site, that will make the six o'clock news because it was a spectacular fall.  If you tripped over a curb and hit your head and died three days later, it won't make the news because it wasn't a spectacular enough fall.  Even a same level fall can destroy lives.  One of the best tips you can give anyone is to learn how to prevent slips & trips.
Click here to view clip >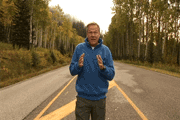 Horoscopes and Safety (1:50)
My horoscope said it was going to be an "accident prone" day for me. It said I should be careful because dangers can appear right out of the blue.  Do you really believe your safety depends on how the stars line up? It's not the stars that keep you safe… it's you and your co-workers.
Click here to view clip >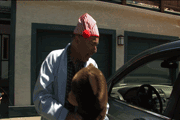 Driving and Sleeping Don't Mix (3:35)
Have you ever fallen asleep while behind the wheel?  What can be more dangerous than going down the highway when you are driving and sleeping?  This clip explains the repercussions of nodding off while behind the wheel and how we can prevent it.
Click here to view clip >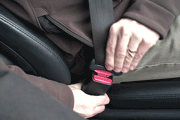 It's the Simple Things That Can Hurt Us (2:00)
Something as simple as a faulty seatbelt caused a pilot to fall out of his seat while he was upside down doing a stunt.  It seems so simple… yet a faulty seatbelt caused a jet to crash.  This clip points out that when it comes to safety, there are no simple things… everything is important.
Click here to view clip >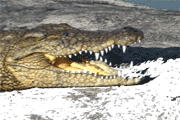 A Crocodile is Like a Machine (1:30)
A crocodile ripped a man's arm off while he was trying to help it.  A machine ripped a man's arm off when he was trying to fix it.  Crocs do what they do and they don't care who they hurt.  Machines are the same.  This clip points out that respect and caution is needed around both crocs and machines.
Click here to view clip >